Altar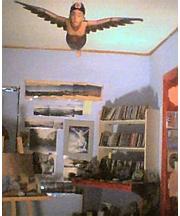 Twyla (
Whimsical Mystic
) asked what my "little home shrine" looked like. It occurs to me I perhaps shouldn't have called it "little"....


Velveteen Rabbi's July 14 post Altarity described her own home altar and referenced several others. At that time I offered the following comment:

I've had an altar for 20+ years. It's served different purposes over time (years ago I meditated and prayed there but I don't do that now). Now it serves mainly to focus my attention while paying homage to different traditions, including my own personal ones. So it has items like statues of Sarasvati (Hindu goddess of writing, music, teaching, creativity in general), Athena, a cute little wooden monk I bought in Assisi, a cross bookmark in a little booklet of reproductions by Giotto, a Kachina, an Inuit sculpture of a bear, symbols from various other traditions, rocks and shells, an abandoned paper wasp nest, the covered-bridge pin I had given my mother as a gift (because she loved covered bridges), gifts given to me, etc. It has some statues I've made of home-grown goddesses. I have draped an Arabic-inscribed pendant with the opening of the Koran around my small, childhood menorah in hopes of peaceful coexistence. The most recent addition is a button from the "Voices For the Wall" project, an aural reproduction of the Vietnam Veterans Memorial, for which I helped read names.

The altar first lived on a plastic Parson's table, then on various dressers, and now fills a cabinet where I keep art supplies. I'd rescued the cabinet from the curb and painted it with botanical images.

In other places where I've lived the collection was backdropped by a star map and a "Peace on Earth" bumper sticker, but I've had to find other wall space for that. Other items have migrated from the altar to places throughout my studio. (In a sense, my entire studio serves as an altar and my creative output is one form of prayer.)

On the concept of idols: I agree with Lorianne that they serve as reminders. For me they are lenses that help focus my attention toward the Divine -- and toward the diverse ways in which we all connect to that source.
When I first moved in 1983 to the small house I rented in Woburn, I set aside a room to serve as my library and meditation space. My altar was much smaller then, containing (among other things) the key mentioned in the preceding entry, my Magen David and childhood menorah, and some rocks and shells. One of my first additions, placed between the table legs, had been a pair of smiling moon-face slippers made from green foam. I had worn them at my voluntary sterilization; time has since worn them away.

In 1986 I moved from that house to a small, furnished studio apartment in Cambridge. My altar shifted from the Parson's table to rest atop the first of three dressers (one per move). Down here, it lives on the aforementioned cabinet.




The cabinet dates back to the night before one trash day in Dorchester. I found it down the block from where we lived, set out on the curb for pickup. The photo at upper left is the "before" shot. To its right is me in our then-kitchen, clad in my "Celebration of Life" apron and holding my morning coffee, after I had cleaned the cabinet and applied the first coats of paint. ("A Celebration of Life" is the annual Thanksgiving dinner given by the Boston Living Center for people living with HIV. Mary and I volunteered at it for several years.)

The large horizontal surface is a gazania (daisy family); the sides are painted with meconopsis (blue poppies) and butter-and-eggs (snapdragon family). The doors are painted with pulsatilla and a bee; a snail resides above them. My source materials included Harold Feinstein's One Hundred Flowers and Roger Phillips' and Martyn Rix's The Random House Book of Perennials.

I placed my invocation to the God/dess on the back. I had written it as my Artist's Prayer while doing The Artist's Way with a group:

O God/dess, O Muse,
You have nurtured me
When I have most resisted You,
Filled my cup with Divine Flow
When I have been open,
Talked to me when I needed talking to,
Left me empty when I needed cleansing,
Then sent fresh, new water from Your well.
You have blessed me from the beginning
And so I ask of You: Please help me
Keep my mind and body free to welcome you,
My soul to let you into dark corners.
Please help me proceed in the best possible way
To use Your gifts and blessings for the betterment of all life
In all our connectedness
Within the Universe --
And may I fully be
Part of Your glory
By honoring my uniqueness, and power, and gifts
That have stemmed from You.
Selah.

The last photo shows the finished cabinet loaded with my art supplies in my old studio room. The portrait of the woman is one my uncle did of my mother, years before I was born.

Blurrier digital photos follow, though hopefully enough to give a general idea of my work/play environment.





"Altar Central" now sits on two surfaces on the art supply cabinet; the top shelf also holds a bookcase filled with music CDs. On this surface sit three of my sculptures, wooden boxes with rocks and shells, various pendants (including an Om and a pendant of a grain goddess that I found in Armenia), a dorje, and statues of assorted deities.





One of the first items I actually bought for the shrine (other than the candlestick) was a statue of Sarasvati. I'd first seen a carving of her at the Metropolitan Museum of Art in New York and simply loved what she was about. She's on the top shelf, behind and to the left of my "Crone Goddess" in blue. Both of them sit on a mouse pad, imprinted with the image of a prayer rug, that a friend gave me. The carved red wooden box in the lower left holds pumice and basalt from Mt. St. Helens that I picked up a year after the eruption. A statue of Athena stands in front of the candlestick.





This button is my newest addition to the shrine (which gains and "loses" pieces, though most of the latter have simply been moved to other parts of the house). I grew up during the Vietnam War. When I heard that a group called Vietnam Veterans Gathering was making an audio version of the Vietnam Veterans Memorial (the photo at left is from my visit there in 1987) I volunteered to read names. They asked folks to read a page with 30 names on it; on my first visit to the recording booth I read over 1,000 -- almost no one had shown up that day and I had plenty of time. (I didn't want to hog the booth, but the organizers told me that when not enough people showed up they read the names themselves.)





The lower shelf contains other boxes with rocks and shells, along with a few feathers, statues, semiprecious stones (amethyst, tigereye, jasper), and other miscellany. In addition to items mentioned in my comment above, it includes but is not limited to:


An owl made out of small shells, given to me by my next-door neighbor in Woburn.


A ceramic cat that I kept from a childhood collection of ceramic animals, some of which are now in other parts of the house.


A small bowl that I picked up at the Pueblo at Acoma.



An old, purple glass goblet passed down in the family.


A ceramic dragon-shaped incense burner.


A couple of buttons from the Jacques Marchais Museum of Tibetan Art on Staten Island, NY.


A Mesoamerican clay pipe with the image of a to-me-unknown deity -- bought in Salem, MA.


A bronze sculpture, "Faun", depicting a lithe satyr, bought in Florence, Italy; and a small ceramic mask from the same trip.


A pewter fairy sculpture.


Bread sculptures, one of a turtle and one of a witch, bought in Quito, Ecuador.





Some items -- a Buddha pendant a friend gave me, wooden prayer beads (also from Ecuador), and others -- have moved from Altar Central to my art/writing supply storage area (a former closet whose bifold doors I removed). The wooden sign hanging from one of the shelf struts reads, "Trust Your Crazy Ideas." (I picked that one up at the New England Flower Show.)

I used to use my altar for meditation but haven't for quite some time. For some years during the 80s I regularly lit candles, burned incense, and for a while had erected my version of a medicine wheel, setting out various herbs that I changed and renewed atop a round, green marble trivet.

Pictures adorn the wall beside the altar: photo enlargements and several-part panoramas, mostly of landscapes.





My writing desk (where I'm typing this) is itself a kind of mini-altar. The shelf above the desk has, among other items, the portrait my uncle did of my mother (beneath a still life he had also painted); Queenie (the mug that provided the face for "Moonrise on Phosphorescent Island", and whose story deserves another entry), the transistor radio from my hospitalization in 1966, and a fisherman mug. I'd bought the fisherman because one of my earliest memories is of visiting my mother's cousin and falling in love with a similar, benevolent-faced mug on a high shelf (though, at the time, every shelf was a high shelf. My other memory from that visit is being tall enough to get my chin just above a glass-topped table, so that I could look through the glass and see my shoes).

Just beneath the lower left of the still life is a pastel I bought from Hugo, the homeless man mentioned at the end of my "Unexpected Trails" entry. Next to that is a calligraphy plaque signed by Candace Kelly, which reads, "What can be conceived can be created." To the left of the shelf, seen fairly edge-on, is a mobile made with homemade paper, pieces of glass and ceramic, and a tree branch, that I bought from a friend and co-Artist's Way participant.

Beneath the shelf is another plaque done by Kelly, which contains the Spanish proverb, "What one does, one becomes." Above that plaque is a quote from Audre Lorde, which Mary and I each received when we took a self-defense course, and which reads:


When I dare
To be powerful,

To use my strength
In the service of my vision,

Then it becomes
Less and less important
Whether I am afraid.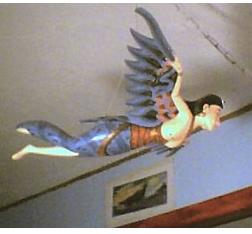 Overhead hangs a Devi, one of three in the house, that I'd picked up at a craft fair in Cambridge, MA. Behind her is a painting I'd bought in Juneau of ravens; it lives above the entrance to the writing/art supply area.