Fallout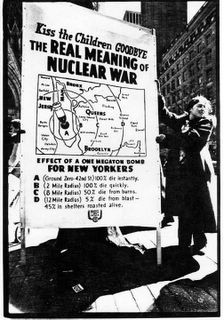 The author at age 23
Photo credit: Dot Marder

Flashback: 1981-1982
I have a masters thesis to write. My classwork is finished; I must find another way to get out of the apartment....


I become an assistant to the administrator at Women Strike for Peace (WSP), in lower Manhattan. Each morning I walk down the hill, catch the bus to the ferry, the ferry to the subway, and the subway to Broadway, then walk past old majestic buildings of stone and brick.

WSP began in the early 1960s, when women across the country left their housework and marched in the streets to protest nuclear testing. The volunteers I supervise are old enough to be my grandmother; they have been protesting for a long time.

Away from the office I write my thesis on Evaluation of a Computer Based Human Factors Laboratory Course for Undergraduates, while at WSP I coordinate with groups like Physicians for Social Responsibility to get information on the effects of a nuclear bomb blast. I read publications from the American Friends Service Committee detailing how members of Congress voted on nuclear issues. I call the local police to secure a permit for our vigils by Rockefeller Center, across the street from St. Patrick's Cathedral.

There we set out tables with pamphlets, buttons. I hold up a sign illustrating the consequences of a one-megaton nuclear detonation in Manhattan: what it means at Ground Zero, in Brooklyn, Queens, the Bronx, Westchester. Where I am living is just off the map, where another, less obvious, domestic war is staged.

During one of our vigils, a priest, dressed in a black suit and clerical collar, is yelling at me. I don't remember what he says, only that his words are angry ones, delivered in high decibels.

When he is finished I say, calmly, "That sounds strange, coming from a man of the cloth."

He whirls around, stalks off.

Shortly he is back, apologizing to me. I nod, grateful that he has followed his conscience, wherever it is taking him, at least enough to realize that he has behaved badly.

I have learned to be calm in the face of anger. To channel it past me, save my energy for the battles at home.